Not on Mac? Try
Airfoil for Windows
Airfoil®
For Mac
Any audio, everywhere
Stream any audio from your Mac all around your network. Send music services like Spotify or web-based audio like Pandora wirelessly to all sorts of devices, including the Apple TV, HomePod, Google Chromecast, Sonos devices, and Bluetooth speakers. You can even send to iOS devices and other computers.
Any audio on your Mac can now be heard throughout your house!
Free Download
Purchase
Level Up Your Wireless Audio System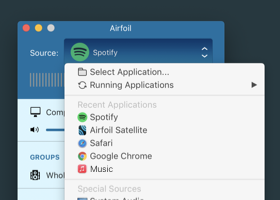 Send From Any Audio Source
Use Airfoil to stream any audio playing on your Mac, from music services like Spotify and Pandora, web-based audio from Safari or Chrome, or anything else you like.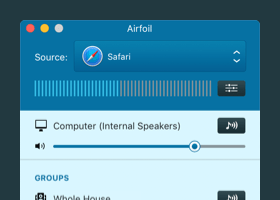 Play to Multiple Outputs in Sync
Stream the music you love to speakers all over the house. Everything will play in perfect sync, even between different speaker types.
Team Up with Airfoil Satellite
Airfoil Satellite is a free companion for Airfoil, available for iOS, Windows, and Mac. Receive audio and remotely control Airfoil on your iOS device or other computer!
Great Airfoil Features
Auto-Transmit
Configure Airfoil to auto-transmit on launch, and you'll be streaming audio around your house just by opening the app.
New!

Silence Monitor

With the silence monitor feature, Airfoil can automatically disconnect when silent audio is streaming.
New!

Speaker Groups

Send to multiple outputs with just a click. Create a group for all the speakers in your house, or make multiple zones.
Menu Bar Mode
Airfoil can optionally reside exclusively in your menu bar, tucking away until you need it.
Useful Audio Effects
Airfoil's built-in equalizer lets you tweak audio to get that perfect sound.
Metadata Included
Airfoil includes metadata with its stream, so you can see track titles and album art with compatible outputs.
Receive from iOS
Run Airfoil Satellite on your Mac, and you'll be able to stream audio from iOS to your computer.
Stream Audio to Thousands of Supported Devices
New!

HomePod

Apple's HomePod speaker can now play more than just Apple Music. Stream any audio to it with Airfoil, adjust audio with an EQ, and even send to multiple HomePods in sync.
Apple TV
All versions of the Apple TV can receive audio streamed by Airfoil, whether you've got a compact black tvOS-based AppleTV, or the original from way back in 2007.
Other AirPlay Devices
Licensed third-party AirPlay devices from companies like JBL, Pioneer, Sony, and many more are all supported.
New!

Sonos Speakers

Sonos's AirPlay-compatible devices are automatically supported, and older Sonos hardware can receive audio as well.
New!

Google Chromecasts

Google has a great line of Chromecast hardware, and Airfoil's a great companion for any of these inexpensive devices.
New!

Other Cast Devices

Cast isn't just for Google hardware. Dozens of brand-name televisions and speakers are Cast-enabled, and Airfoil works great with them as well.
Bluetooth Devices
There are thousands of different Bluetooth audio speakers and headphones, and they all work with Airfoil.
Other Computers
With the free companion app Airfoil Satellite, any Mac, Windows PC, or even Linux box can become an audio receiver for Airfoil.
What People Are Saying About Airfoil for Mac